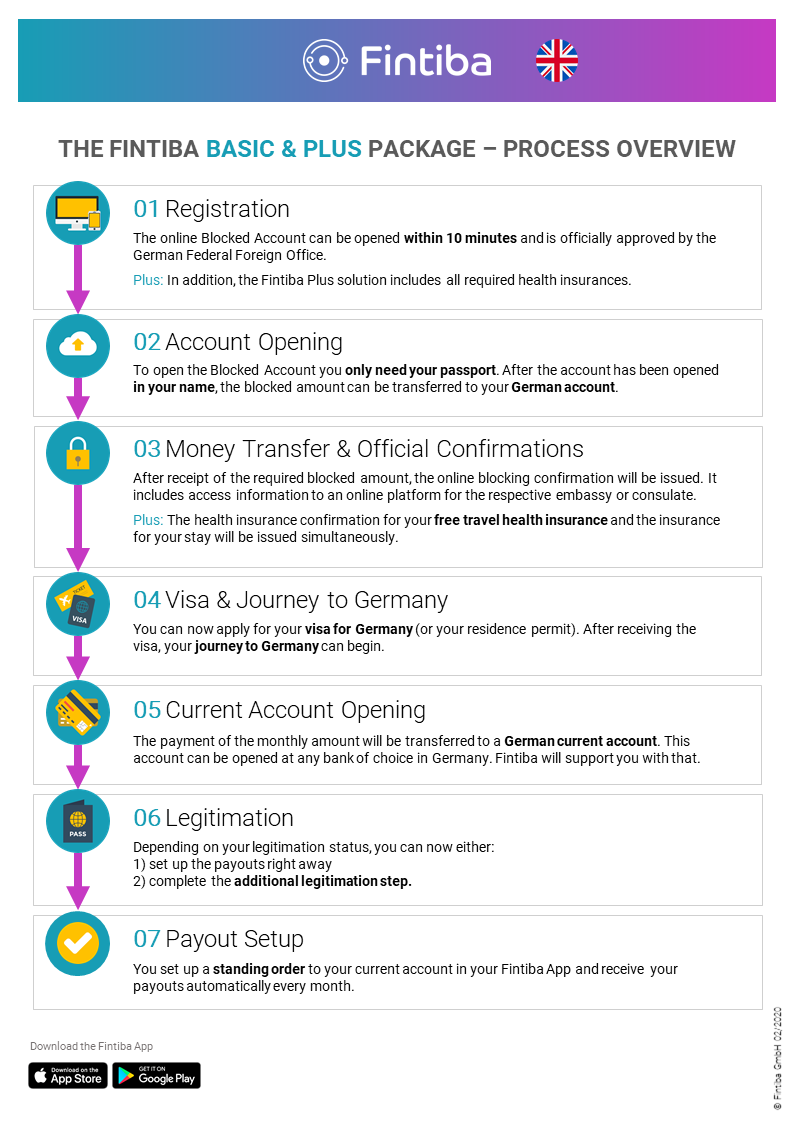 Detailed step by step description:
The online Blocked Account can be opened within only a few days and is officially approved by the German Federal Foreign Office.
Plus: In addition, the "Fintiba Plus" solution includes the required health insurance.

To open the Blocked Account, you only need your passport. After the account has been opened in your own name, the required blocked amount can be transferred.

After reception of the required blocked amount, the online blocking confirmation will be issued. This includes access information to an online platform for the respective embassy or consulate
Fintiba Plus: The health insurance confirmation will be issued simultaneously.

NEW! The fastest way to your blocking confirmation, now even faster!

Get your blocking confirmation instantly after a single credit card payment of the complete blocked amount sum via Fintiba Transfer!

You can now apply for your visa or residence permit for Germany at the local embassy, consulate, or foreigner's authority.

In case the local authority either requires an increased monthly sum or a minimum balance, the blocked balance can be adjusted easily.

After receiving the visa, you can travel to Germany.

Plus: After uploading your visa, the required insurance documents for the stay in Germany and enrolment at university will be issued.

The payout of the monthly amount will be transferred to a German current account. This account can be opened at any bank of choice in Germany.

Depending on your legitimation status, you can now either:

1) complete the legitimation or

2) set up the payouts right away.

The monthly payouts can now be set up in the Fintiba WebApp to receive the agreed amount automatically on a monthly basis.
☝ Also interesting for you?